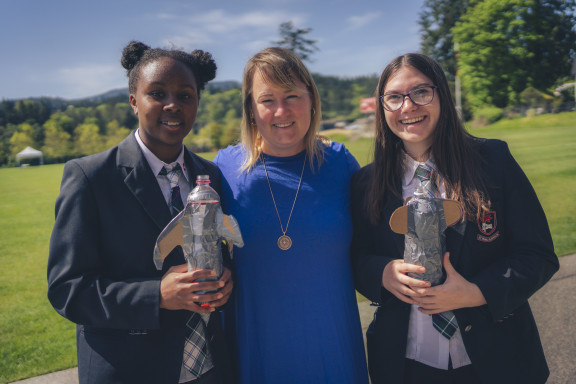 Academic Courses by Grade
Brentwood offers a challenging curriculum that is diverse and immersive. Throughout their time here, students are encouraged to explore different areas of study as they build an understanding of the courses that offer them the most engagement and success. Identifying these areas of strength creates a solid foundation for the university application process.
As students progress through the grades, they are granted more flexibility and range to choose courses that best fit their own educational goals. The hallmark of the Grade 12 academics program is the degree of freedom that students have to choose courses that fulfill the needs of those post-secondary plans.
150p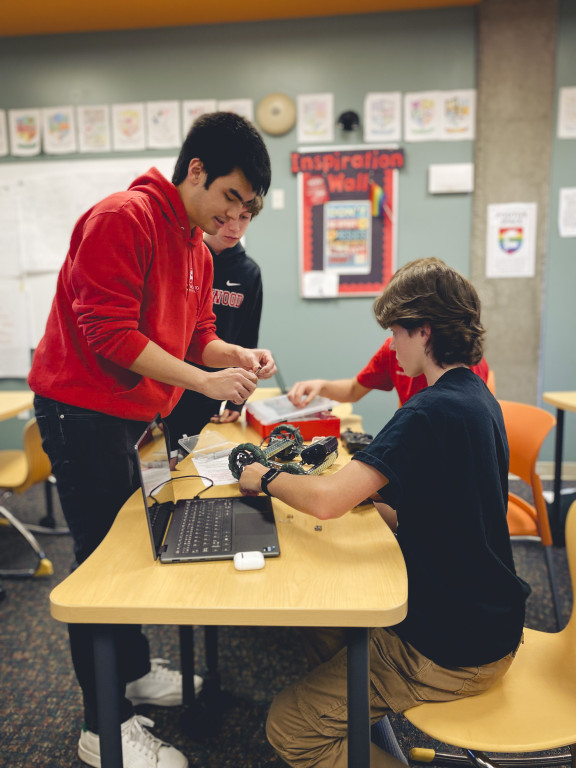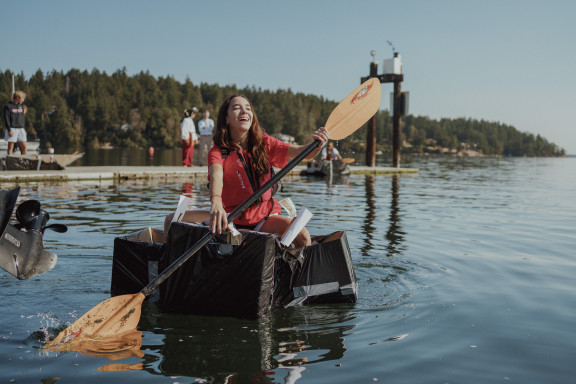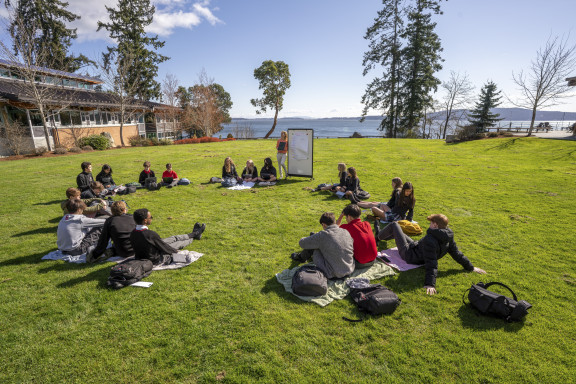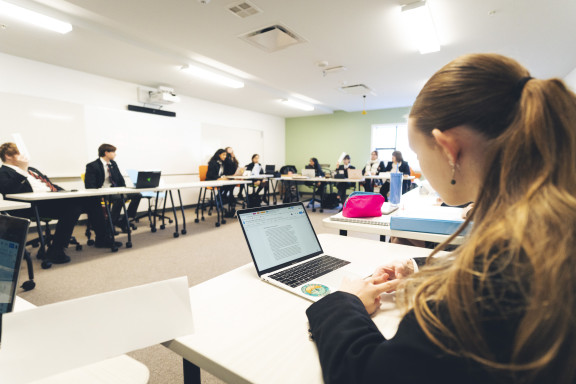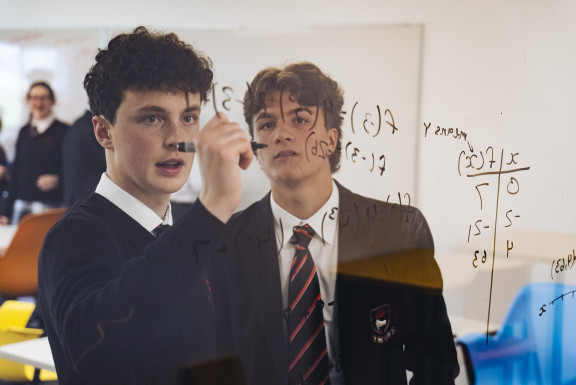 75p
Grade 8
The Brentwood Grade 8 Program has its own independent timetable, purpose, and goals. This specific program—thoughtfully and passionately designed by founding instructor Wendy Patel and enriched by the program leaders that followed her—prepares students for Brentwood's intense and immersive Grade 9-12 post-secondary preparatory program.
Grade 8 at Brentwood is all about supporting bold young students through their personal and unique development of executive functioning—part of the "scaffolding" that we believe will set them up for success in the years to come.
Brentwood's impressive facilities and some of its programs are accessible to Grade 8s, but this program is uniquely designed with a five-day schedule—primarily catering to day students, and intentionally closer to a "standard" school schedule in order to aid the transition to our six-day Tripartite Program.
Extra-Curricular Activities
Participation in the Brentwood arts and athletics programs is not mandatory for Grade 8 students—but interested and capable students are welcome to try out for competitive teams and to take these extra-curricular classes (co-curricular for grades 9-12), should they choose to make the commitment.
Arts programs run for the full length of the school year on Monday, Wednesday, and Friday afternoons. Athletics programs take place on Tuesday, Thursday, and Saturday afternoons. During each of the fall, winter, and spring terms there are different sports to choose from—you can change it up each term or pursue a sport that you love in all of its available offerings. Our competitive teams will often practice or compete on more than three days per week, so this time commitment should be taken into consideration by anyone in the Grade 8 program who is keen to join in.
Applications for Grade 8
For more information about our Brentwood Grade 8 Program, please contact the Admissions Team. Spaces are always limited for the coming school year.
Grade 9 Courses
This incredibly important year lays the foundation—what we think of as "the scaffolding"—for every learning experience to follow. Often the first year that a new student will spend at the School, Grade 9 at Brentwood presents each individual (including those continuing on from the Brentwood Grade 8 Program) with an integrated program designed to develop metacognition—learning to learn.
The Metamorphosis 9 class is illustrative of this philosophy—challenging and stimulating the students through a broad range of creative, STEM-based, and collaborative learning experiences.
Students are presented with a range of academic activities to strengthen and expand their use of information technology and to develop their skills in displaying and manipulating data. Experiential methods are employed, together with technology, to bring concrete examples to the principles taught in the classroom. The marriage of the theoretical and practical can be very powerful. Collaborative learning strategies and the ability to participate as an effective member of a team are equally important. All students are engaged in a curriculum that enhances their appreciation and understanding of global challenges as well as opportunities.
Grade 10 Courses
Grade 10 builds on the foundational skills of Grade 9 by encouraging students to become more confident in taking risks scholastically as they explore a variety of academic disciplines and interests and discover their passions and strengths.
A wide selection of electives are available to provide a basis for advanced study in the senior grades, and a preview of more specialized areas of study. Cross-curricular themes are established to help students connect their areas of knowledge by providing a context of key ideas that transcend subject boundaries.
The Grade 10 curriculum has optional units to further expand the student experience. Integrated into the academics timetable are learning outcomes associated with Planning 10—designed to help students with a wide range of objectives, from post-secondary planning to improving organizational skills through lectures, discussions, and consultation with their advisor(s). Health and career education, as well as financial literacy, form important strands of this coursework.
Our aim throughout is to enable students to develop life skills, become self-directed, set goals, make thoughtful decisions, and take control of their personal planning.
Grade 11 Courses
During Grade 11, Brentwood students make important decisions regarding their prospective university placement. Choices made regarding electives can and do reverberate into Grade 12 and beyond.
The foundation for these choices begins in Grade 10—with a thorough orientation to elective course options and their implications for Grade 12 and post-secondary. All Grade 11 students are expected to tentatively develop university plans and are encouraged to attend university sessions to broaden their knowledge of the options available in Canada and abroad. For those interested in American universities, we also provide an extensive program through the post-secondary counselling support team.
Grade 11 is the "pre-AP" year that provides a foundation for success in Advanced Placement learning experiences—and exams—in Grade 12. Advanced Placement is one option that allows students to pursue academic excellence; all students are encouraged to become involved in the wide range of opportunities at this level. In several electives, there is the possibility of taking AP exams in Grade 11.
With today's increasingly competitive and expensive post-secondary institutions, the experience of having taken Advanced Placement courses is not only excellent preparation for university-level education, but can also enable direct placement into higher-level courses and credits to alleviate tuition burdens.
Grade 12 Courses
During Grade 12, students take on key roles in the houses and the School as they prepare to graduate and begin their post-secondary journey. The curriculum focuses on building skills to instill confidence in our students and empower them to make important decisions. The Grade 12 electives include numerous AP options, to potentially earn first-year credit and gain entry into second-year university courses. It is a year of support and collaboration with peers, advisors, post-secondary counsellors, mentors, and parents.