33p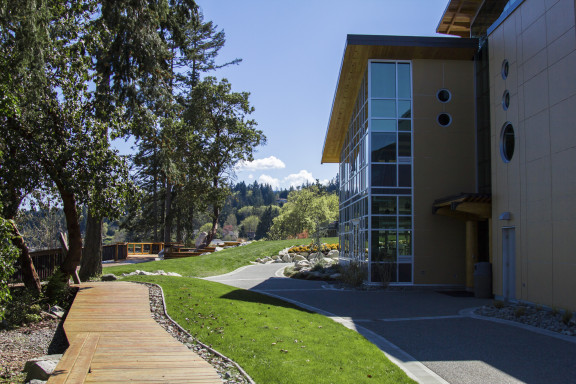 Academic Facilities
Spread across five unique buildings, our classrooms support diverse teaching styles and programming. All classrooms are outfitted with digital projection, audio systems, and high-speed wifi that allow our teachers to seamlessly deliver digital and interactive content.
75p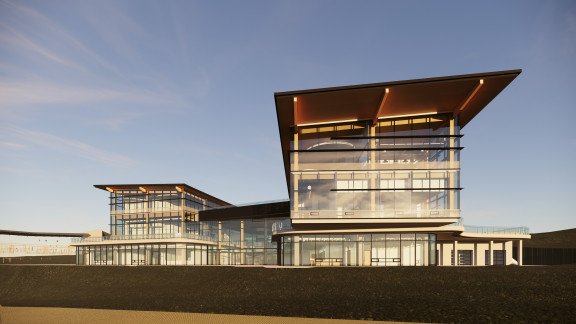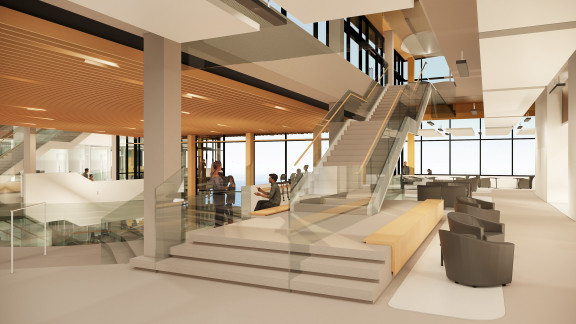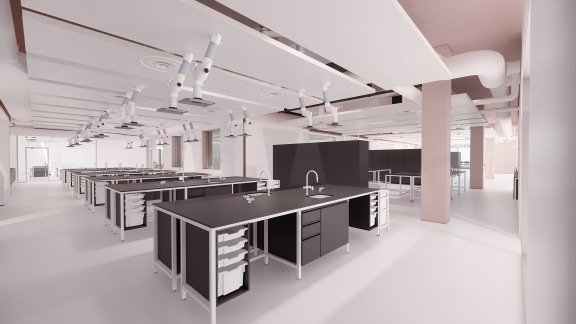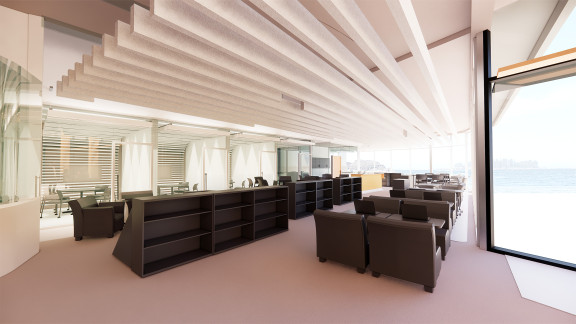 New Centre for Innovation and Learning
Coming in August of 2024, the new Centre for Innovation and Learning will be a world-class facility supporting all Brentwood academic experiences—situated right at the water and at the mid-point of our 90-acre oceanfront campus. The 72,000 sq.ft., West Coast-inspired building includes a new boathouse for our Brentwood Rowing Program and academics-driven features such as Learning Neighbourhoods, a Science Superlab, the Collaborative Atrium Space, and several Waterfront Learning Spaces—in addition to classrooms, offices, and areas for socializing and gathering as a community.
100p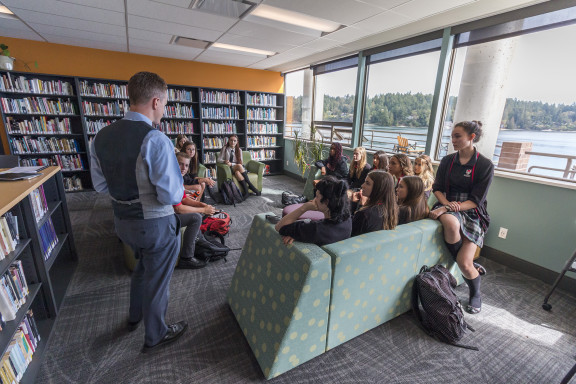 Dynamic Classroom Layouts
The majority of our classrooms have movable furniture—allowing teachers to create dynamic learning environments—as well as natural light, views to nature, natural ventilation, and large floor areas for maximum flexibility. Classrooms come alive with group projects, collaborative learning opportunities, and engaging presentations—all supported by a functional and thoughtful approach to classroom design.
50p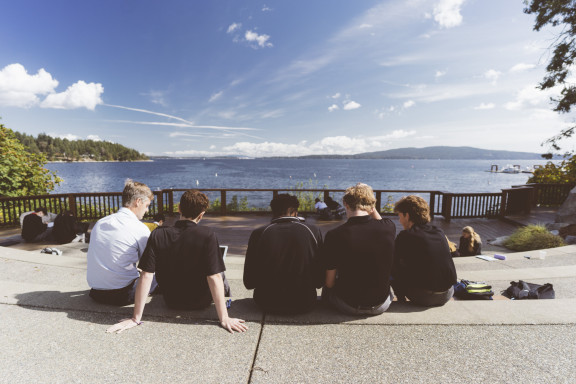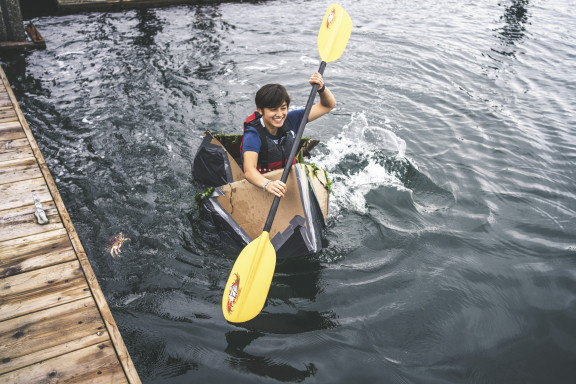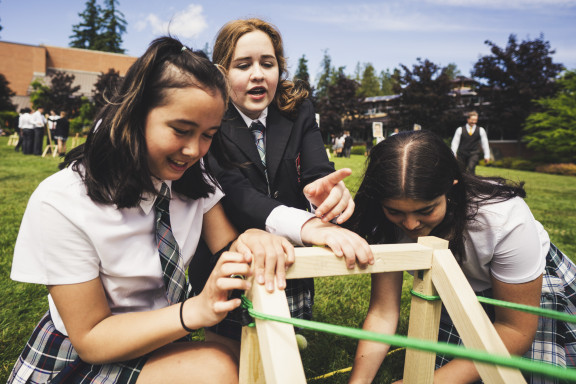 Outdoor Learning
Our teachers take advantage of the stunning Brentwood oceanfront campus and mild West Coast climate of Mill Bay by providing outdoor lessons for a wide range of subjects. From teaching calculus in the amphitheatre overlooking the Millenium Trail boardwalk and views across the water to Whiskey Point and Mt. Baker, to conducting biological analysis of the Saanich Inlet ecosystem, or simply reading an English novel in the sunshine—students benefit from the unique opportunities our campus provides in their academic learning.
66p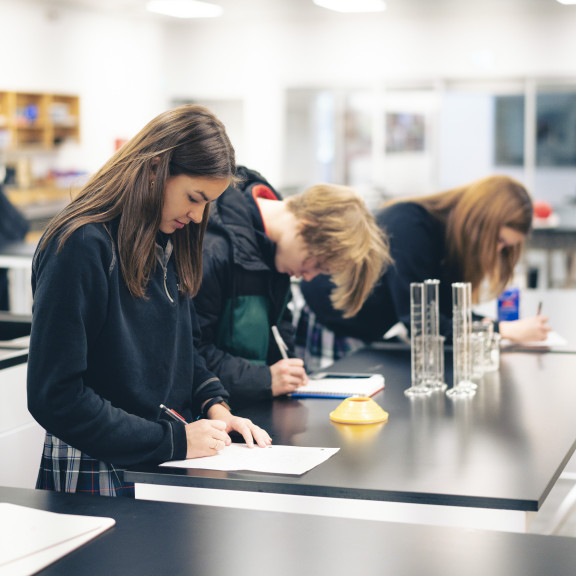 Science Superlab
The Brentwood Science Superlab is a shared lab space for all sciences at the School—its design is based on the post-secondary model. The openness of the lab allows for younger students to see seniors working on more complex experiments—to perhaps be inspired to continue their studies in these exciting fields. The flexibility of this one, shared lab space also means the integration of concepts supported by collaborative lab equipment that was traditionally designated as biology, chemistry, or physics. As classroom spaces adjoin the Superlab, students will be able to move between the two, taking advantage of the open learning space as well as the more focused classroom environment.
66p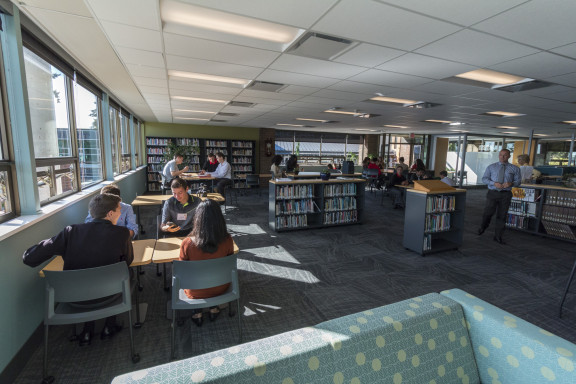 Study Areas
The Learning Commons represents our vision of the modern library. This space allows students to work collaboratively or individually while being supported by academics teachers. Students can use this space throughout the day as a dedicated work and research area—in the style of a post-secondary study hall. During evening study time, known at Brentwood as "Prep", students can come to the Learning Commons to study and receive extra help from the supervising staff.
66p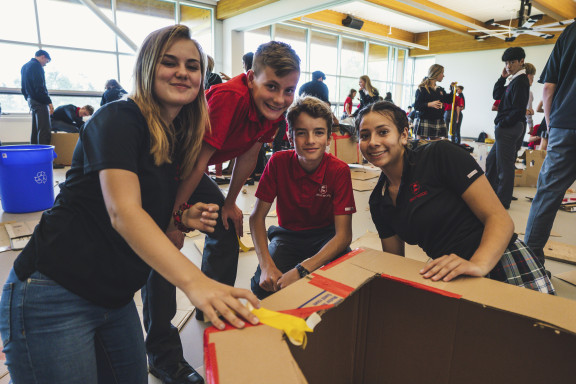 There are also a number of spaces throughout the campus ideal for academic study or reflection, not limited to the Learning Commons. These spaces include McNeill's Cafe, breakout rooms and furnished common spaces in all buildings, and—our favourite—the expansive, inspiring, and wellness-supporting natural environment all around our campus. From grassy knolls in Campbell Common, to nooks and benches along Millenium Trail, to the meandering pathways and garden beds that weave between boarding houses, arts, athletics, and academics-dedicated buildings—there simply is no more pleasant or peaceful place to set your mind to a task and see it through to the end.