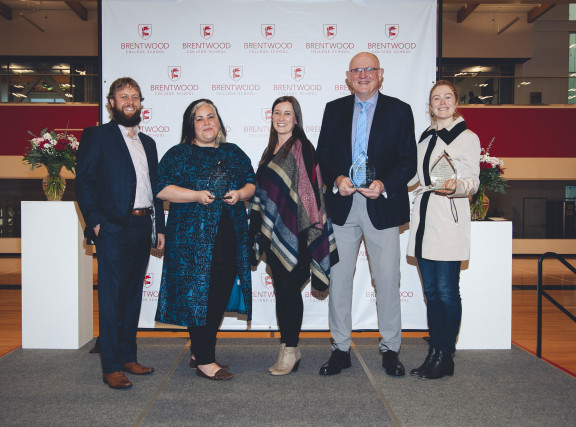 Old Brentonian Awards
Each year, the Old Brentonian Executive invites the Brentwood community to submit nominations for the annual Old Brentonian Awards. These awards celebrate the career and service achievements of Brentwood College School alumni in the categories of Lifetime Achievement, Outstanding Brentonian, and Extraordinary Young Brentonian.
2023 Old Brentonian Awards Ceremony
Awarded on March 4, 2023, in the George Killy Theatre.
2023 Extraordinary Young Brentonian
Anastasiia Lapatina '19
2023 Outstanding Brentonian Award
James Larsen '99
2023 Lifetime Achievement Award
Bruce Carlson '64
75p
Previous Award Winners
2022 Honourees
2022 Lifetime Achievement Award: Marius Felix (Privett '77)
2022 Outstanding Brentonian Award: Joella Hogan (Mackenzie '94)
2022 Extraordinary Young Brentonian: Nisan Abdulkader (Allard '12)
2021 Honourees
2021 Lifetime Achievement Award: Wade Davis (Privett '71)
2021 Outstanding Brentonian Award: Trish Dolman (Alex '88)
2021 Extraordinary Young Brentonian: Sean Monteiro (Whittall '15)
2020 Honourees
2020 Lifetime Achievement Award: D. Brad Wintrup (Privett '83)
2020 Outstanding Brentonian Award: Christopher Martini (Ellis '92)
2020 Extraordinary Young Brentonian: Virginia Reynolds (Alex '11)
2019 Honourees
2019 Lifetime Achievement Award: Geoffrey Alpert (Class of 1965)
2019 Outstanding Brentonian Award: Claire Crooks (Mackenzie '91)
2019 Extraordinary Young Brentonian: Yasyf Mohamedali (Privett '13)
2018 Honourees
2018 Lifetime Achievement Award: David Wilkinson (Class of 1971)
2018 Outstanding Brentonian Award: Tyler Wish (Whittall '98)
2018 Extraordinary Young Brentonian: Malcolm Howard (Ellis '01)
2017 Honourees
2017 Lifetime Achievement Award: Alastair Gillespie (Class of 1941)
2017 Outstanding Brentonian Award: Jaya Murthy (Rogers '93)
2017 Extraordinary Young Brentonian: Sarah Common (Gwynneth '03)
2016 Honourees
2016 Lifetime Achievement Award: George Killy (Class of 1964)
2016 Outstanding Brentonian Award: Michelle MacLaren (Alex '82)
2016 Extraordinary Young Brentonian: Daniel Riley (Whittall '04)