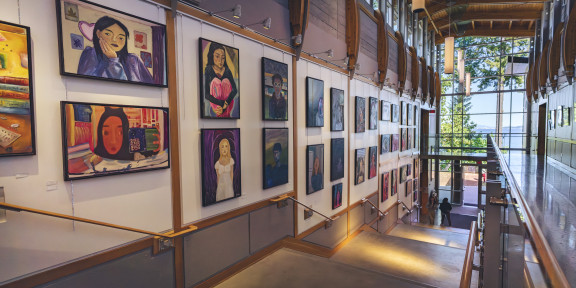 Arts Facilities
Brentwood's studios, stages, and workshops—together with sunlit classrooms located throughout our West Coast oceanside campus—provide artists with compelling and inspiring spaces that lift and support them.
Within these exciting, multi-functional galleries, rooms, labs, and stages, students discover a passion for what the School has to offer: visual, performing, technical, and communication arts taught by practicing artists in a community of fellow learners that choose to be here.
100p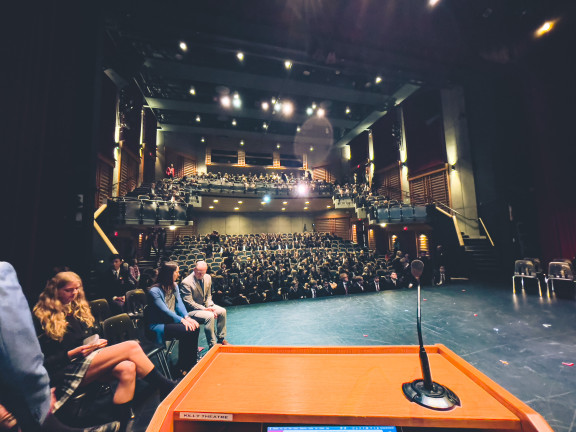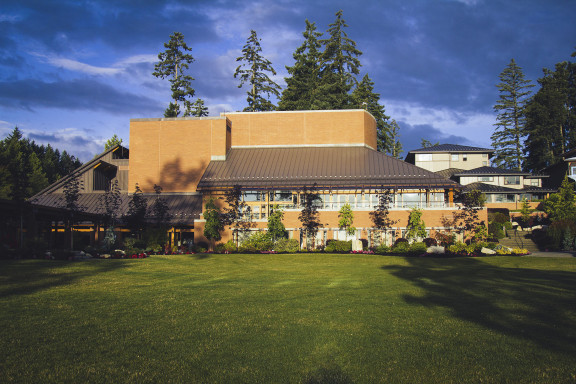 T. Gil Bunch Centre for the Performing Arts
The T. Gil Bunch Centre for the Performing Arts honours a beloved (and notoriously strict!) member of the Brentwood Family, Mr. Bunch—the School's Assistant Headmaster and teacher of English literature and drama from 1961 to 1993. This 20,000-sq.ft. facility includes a 431-seat theatre, dance studio, music studio, green room, and four dressing rooms.
The George Killy Theatre, within 'the Bunch', is used to stage straight drama, musical theatre, music, and dance showcases—and is also the venue for our annual Brentwood TEDx conference.
The stage has a sprung floor and an orchestra pit lift, which can be moved to one of three levels. The theatre is outfitted with state-of-the-art sound, communications, video and stage lighting systems, and motorized acoustical banners to enable the audience chamber to be acoustically tuned for voice or music.
The dance studio features a sprung floor, full-length mirrors, ballet barres, and built-in sound and video systems. The Asper Room is a large multi-purpose space that can be used for both band rehearsals and media production.
100p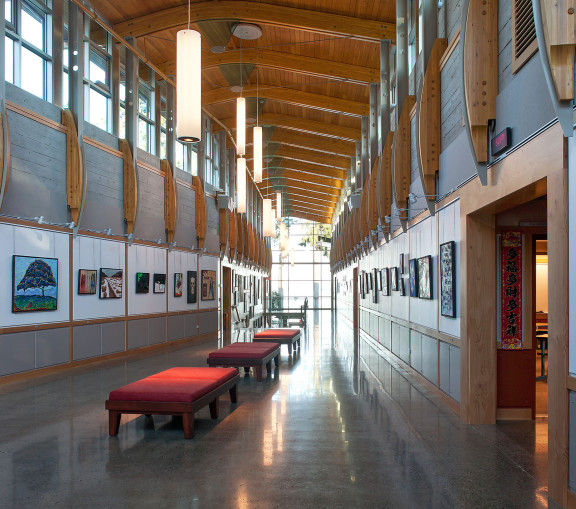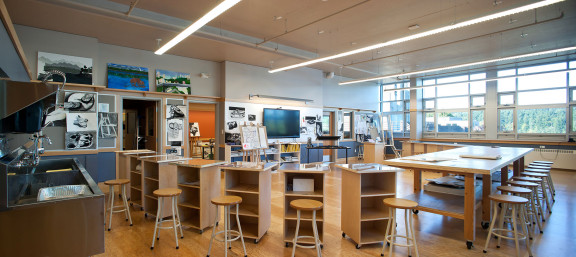 Centre For Arts and Humanities
The Centre for Arts and Humanities is the home of our visual arts programs. This modern facility includes 16,000 square feet of visual art studios built specifically for the needs of the drawing, painting, pottery, sculpture, photography, and videography students. The main gallery and many of the studios have incredible oceanfront views—to inspire our artists.
The two main 1,800-sq.ft. art studios contain easels, sinks, smocks, and ample table space. The 2,000-sq.ft. pottery studio is equipped with 20 potting wheels, generous storage space, drying racks, and three kilns. The traditional and digital photography studio contains two darkrooms, digital printers, and monitors, as well as a 960-sq.ft. photography studio equipped with lights and backdrops. Our woodworking shop and sculpture studios have all the tools and machines students could expect to find in a professional shop—including a table saw, lathe, planer, bandsaw, drill press, and drum sander. In the Robotics Lab, you will find tools, work benches, and arena-like areas for our students to compete with their creations.