50p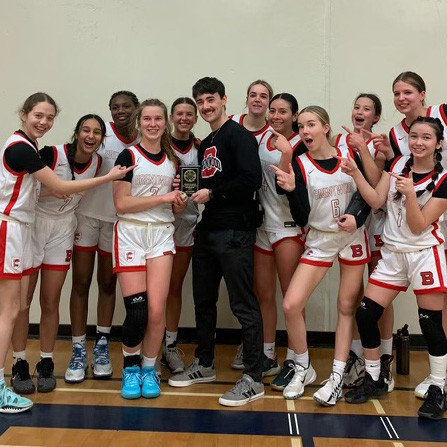 Brentwood Brings Home the Bronze
Editor's Note: This talented, spirited, and energetic team plays tonight in their SHOWCASE GAME vs Mark Isfeld @ 6:30 PST at the Foote Centre. If you can't make it to Foote dressed in red, enjoy world class livestreaming @
https://www.brentwood.ca/livestreams/154
As the majority of the Brentwood community prepared for this past weekend's featured events starting with Girls' Showcase Hockey, followed by the Senior Hockey Game, as well as a Senior Boys Basketball tournament, the Senior Girls' Basketball team made their way across the Salish Sea to Tsawwassen, BC.
On their first away trip to the Mainland of the season, the team embarked full of energy to Southridge School in Surrey. Big Mainland names like Maple Ridge, STMC, Abby Christian, Delta, Southridge, and Islanders from Mark Isfeld were on the draw for the weekend. Up first, Brentwood faced AAA Maple Ridge, on Friday night at 7:30 pm.
With an hour to tip-off, we gathered in the Southridge "Away Changeroom" and, dressed in our new reds, entered the gym to watch the 3rd quarter of the STMC v Earl Marriot game, scouting for our next day's competition. Back to the changeroom we went to talk strategies and defensive matchups. Countdown to tip-off, 28 minutes. But as we left the changeroom a few minutes later, the board showing our time for warmup read 12 minutes. That produced a big-city buzz, panic and urgency, a big change from our "Life is a journey, not a destination" Vancouver Island lifestyle.
We found ourselves leading 18-10 at the end of the first quarter, and 33-22 going into halftime but Maple Ridge's big post was causing us problems in the paint and by doing so, put three of Brentwood's starters in foul trouble. After Sylvia E took an elbow to the gut, she found herself, along with Miranda NP and Kionah W, on the bench. During a slow third quarter from Brentwood, Maple Ridge had shaved our lead down to 5 points. But Brentwood did not crack. An 11 and 20-point game from Co-Captains Jensa NG and Miranda NP was enough to help the team finish strong with a 48-43 victory. Aysha D, Allard '24 admits that "Every foul shot, every defensive hustle had the entire bench on our feet."
This win over Maple Ridge had us set to play the 5th-ranked AA team in the province, St. Thomas More Collegiate, but it also meant that we played Saturday at noon, instead of the dreaded early morning 8 am game.
A team full of athletes and shooters, STMC was one of, if not the, most skilled teams Brentwood had faced this year. As our shots refused to drop, we found ourselves down by 12 at the break. With Ruby M, Sylvia E, Jensa NG, and Miranda NP all in foul trouble, we had the opportunity to get our bench in the game. Phenomenal hustle plays from Simret S had athletic therapist Gabe W cringing as her head hit the floor … yet again. The game ended with Brentwood losing by 14, so off to the bronze medal game we went.
Abby Christian challenged Brentwood with two shooters who didn't seem to miss. By the 2nd quarter, Brentwood was playing a triangle and two with both Captains facing guarding, denying as if their lives depended on it. With neither of Abby Christian's top shooters scoring in the 4th quarter, we were able to claw back from a 12-point deficit with an 11-0 run thanks to buckets from Jensa NG, Kionah W, and Sylvia E.
Brentwood's ballers rushed to the ferry with an imaginary bronze medal around their necks, ready to rest up and recover before our big week ahead.
Wednesday, Feb 1st - TODAY - is our SHOWCASE GAME vs Mark Isfeld @ 6:30. If you can't make it to Foote enjoy world class livestreaming @
https://www.brentwood.ca/livestreams/154
If you're in the Lower Mainland this weekend, the girls play Friday and Saturday in the ISA Championships at Mulgrave in West Vancouver.
Come out and support. See you all on Wednesday in your brightest red threads Brentwood!
"Fire me up Brentwood!!!!" croons Davis P, Whittall '23.
Jensa NG, Mack '23