50p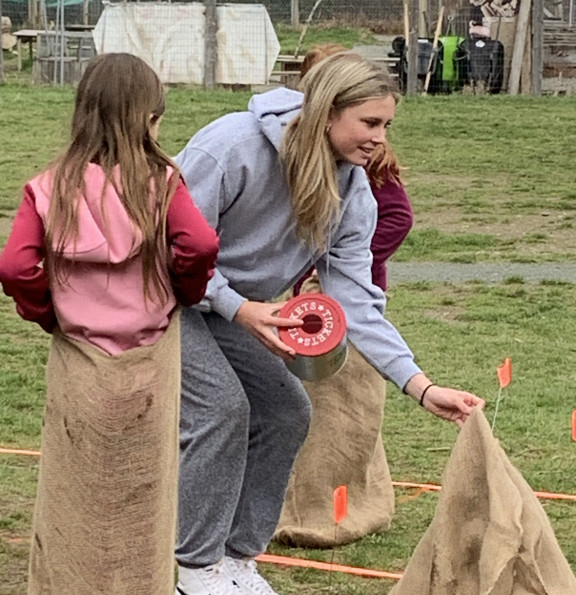 When was the last time you were Senior Safety Officer at a bouncy castle? Or Head Judge for a boot-throwing contest? Or Grand Marshal of the potato sack races?

For 13 students and two staff who volunteered at the Mill Bay Nature School's Earth Day Fun Fair, the answer is, obviously, "Yesterday, of course!"

As part of Brentwood's Earth Week activities, these 15 cheerful individuals spent Friday evening staffing the snack bar, bouncy castles, BBQ, welcome booth, and field games.

"If you ever need to be humbled, hop in a potato sack and race some 10 year olds" bemoaned Zoe G & Katie J who spread grit and joy to children and parents alike despite being put in their place by preschoolers.

"Everything went well and was super fun. It didn't rain, thankfully, and it was such a great atmosphere. Everyone was so happy, it was such a great way to end Earth Week. Sophie and I loved chatting with the kids and the other volunteers and getting to see all the cool booths and businesses that came and how fun the school was!" enthused Luca B, who demonstrated grace under pressure at the highly popular bake sale table.

"We were really proud of the kindness, warmth, and enthusiasm our students demonstrated" gushed BEAT and Environmental Advocacy (EA) Co-Coordinators Ms Miller & Mr Ganley.

Brentwood's Earth Week activities continue with another team of students volunteering at the Cowichan Green Community Earth Day event in Duncan this morning and a post-practice school-wide cleanup and veggie BBQ by our sports teams this afternoon.