50p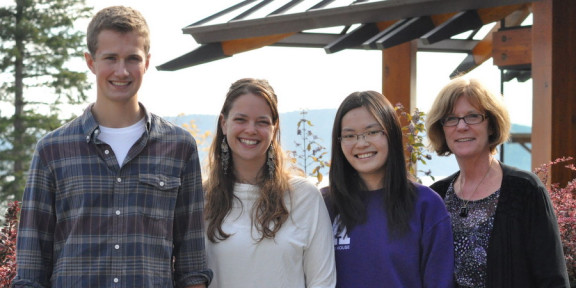 Ms. Ashli Akins, at the invitation of the SAC, made a moving presentation to the school assembly this past Thursday about Mosqoy, a non-profit organization dedicated to the education, preservation and sustainability of the Peruvian Andes villages. Ashli founded Mosqoy, which means 'dream' in Quechua, the indigenous language of the Sacred Valley region of Peru, in 2006. She was, at the time, at the University of Victoria in global studies and took a year off school to travel.
The poverty and social issues of the Quecha people moved Ashli to form an organization to raise awareness and appreciation between youth in North America and the people of Peru. By providing post-secondary educational opportunities to promising youth, she hopes to strengthen the communities with a base of local professionals and leaders. After university, these young Peruvians will possess the tools necessary to be local leaders and role models, and to be catalysts for both sustainable development and the preservation of their cultural integrity. In five years, Mosqoy has aided 40 students, which in turn assists over 300 family members of the Sacred Valley.
This year the SAC has sponsored two students who will attend technical institutes in Cusco, Peru. Elizabeth Jaimes Canal, from Cachiccata, is studying business and Elmer Valdez Solis, from Pachar, is studying computer science; both board in Casa Mosqoy, a student dormitory. These two grateful young people have sent Brentwood thank you letters which have been translated from Spanish into English by Mosqoy volunteers. The dreams of these two promising Peruvian youths are now much closer to becoming realities. If anyone from the Brentwood community would like to correspond and connect with Elizabeth and Elmer, contact Mrs. Quinton for details.
For more information about Mosqoy, visit their website (
www.mosqoy.org
).
Mrs. Susan Quinton, SAC Sponsor