50p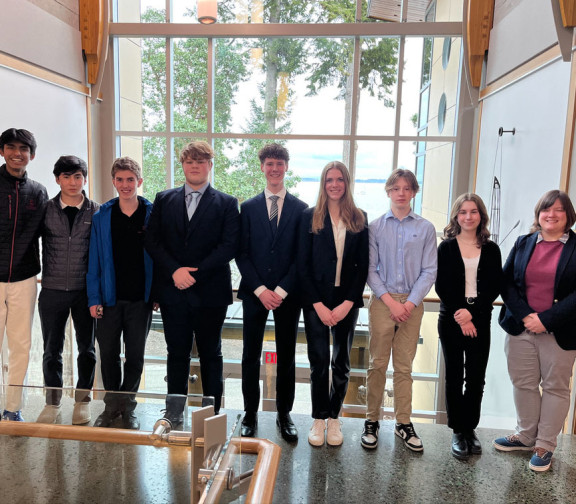 Wit and Wins at Debate Provincials!
After finishing among the top half of debate teams on Vancouver Island in BC Debate Regionals at the end of January, eight Brentwood debaters competed in the BC Provincial Debate Championship on March 3 and 4. At this tournament, the competition is stronger, the judges are more experienced, and the stakes are higher as debaters fought to break the program's five-year dry spell by finishing in the top five to qualify for the Senior National Debate Championship.

In teams of two, these quick-witted intellectuals have spent the last month preparing their arguments for the first two rounds of the tournament where they debated both sides of the resolution: Be It Resolved that the sentencing of criminals take the socio-economic background of the offender into account. "Debate is unique because it forces people to consider both sides of a resolution which often leads to better argumentation," stated Sebastian EG, Whittall '24. After many afternoons spent collaborating with one another and running practice rounds, the teams felt confident about their cases and all reported that they thought Friday's debate went quite well.

Similar to the format for Debate Regionals, Saturday consisted of three bracketed impromptu rounds where debaters are assigned a resolution and a side to argue then given 30 minutes to prepare an 8-minute speech. While the prepared rounds are difficult because the evidence and argumentation are usually more sophisticated, impromptu debate is its own beast because it requires debaters to remain calm under pressure and think on their feet. The impromptu resolutions ranged from a proposed extra year of high school, to bias in Western media, to the institutionalization of art.

In the second impromptu round, two Brentwood debate teams were bracketed against one another and faced off in a close round about whether or not the voices of local reporters should be prioritized over Western media. Daniel J, Privett '24 and Maxine P, Alex '23 went against Debate Co-Captain Zander L, Ellis '23 and his partner Yash D, Whittall '24. The results of each specific round won't be available to coaches for a couple weeks, but the debaters would argue that it could have gone either way.

The top speakers and teams were announced on Saturday night after the finals. A huge congratulations to Daniel J, Privett '24 who had the ninth highest overall speaker score in the entire province! "Provincials went very well this year," remarked Daniel. "I was not expecting to do as well as we did but it is certainly very exciting!" Daniel and Maxine finished as the sixth ranked team in the tournament which makes them BC's first alternate team with a chance of going to the National Championships!

There was definitely much to celebrate after such an exciting tournament. Congratulations were heard all around including from Ms Murtland who wrote that the debaters' "commitment to preparation and performance is incredible." Great job to all of the Brentwood teams and congratulations on an amazing season of debate!

Thanks to Ms Legassicke for all of her time, skill and effort devoted to Brentwood's debate program.